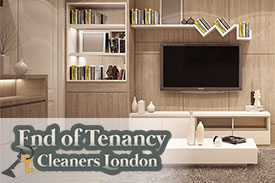 Moving out of a rented property demands you to use the services of professional end of tenancy cleaning company in Kentish Town, London.
All services provided by our agency are performed by professionals who are comprehensively trained and know how to satisfy the needs of our csutomers.

Call us now! 020 3475 5414
End of Tenancy Cleaning Prices
Studio Flat

£106

£94
Studio Flat+Carpet Cleaning

£144

£129
One Bedroom Flat

£148

£133
One Bedroom Flat + Carpet Cleaning

£165

£149
Two Bedroom Flat

£171

£154
Two Bedroom Flat + Carpet Cleaning

£210

£189
Three Bedroom Flat

£197

£177
Three Bedroom Flat + Carpet Cleaning

£254

£228
Four Bedroom Flat

£219

£197
Four Bedroom Flat + Carpet Cleaning

£297

£267
Our end of tenancy cleaning solution in Kentish Town, London is aimed to be cost effective, quick as well as far more efficient than any other service provider.
Why are people so reluctant to hire end of tenancy cleaners I don't know. I personally have found comfort in the fact, that I have at my disposal the very crème of end of tenancy cleaning specialists, just one phone call away.
Everyone can book a service from our company: landlords, estate agents, tenants. It is recommendded to make an arrangement at least 24 hours in advance. We work seven days a week, including weekends and bank holidays.
Below you can check what is included in our tenancy cleaning service
Cleaning the Kitchen:
• Clean the cupboards, in front, sides, outside as well as from within
• The fridge has to be cleaned from all over (inside and outside)
• It's recommended for our customers to turn off their freezers at least 12 hours before
availing of our services
• All the tiles and kitchen appliances are cleaned which includes the oven as well as the
extractors
• The kitchen floors have to undergo steam cleaning while hovering and mopping them
• All the doors windows, skirting needs to be dusted, washed and wiped
• The dishwasher, drawers, and the washing machines have to be cleaned thoroughly
Cleaning the Bathroom: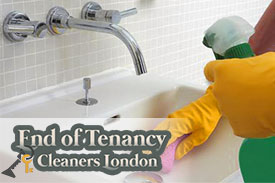 • Descaling of the tiles, floors, and shower screen required
• Toilet, bath, shower heads has to be cleaned and descaled
• Cleaning of mirrors
• Fittings, fixtures and the cupboards needs to be cleaned from all ends
Cleaning the Bedrooms:
All the doors and the windows mopped and cleaned
The furniture has to be moved while being wiped from every corner
The cupboards, wardrobes are cleaned from all corners
Vacuuming both below the bed and over the carpets
Mirrors, pictures as well as the skirting boards are cleaned
Cleaning the Lounge:
Cleaning of doors and windows
Wiping and cleaning the furniture after moving them
Cleaning the cupboards, shelving units, etc. from every corner
Dusting and wiping the light fittings
All the sofas, chairs, and cushions are vacuumed
Other districts in London that we also service
NW4 Brent Cross
NW3 Hampstead
NW6 Kilburn
NW4 Hendon
Do not hesitate to contact our cleaning teams for a quote!