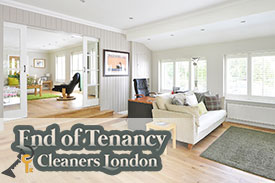 If you are looking for a qualitative end of tenancy cleaning agency in Kensington, London, then you've come to the right place. We are one of the best cleaning contractors in the area and the thousands of clients we've satisfied can vouch for our professionalism and reliability.
With the years of experience we have, we can turn even the most difficult cleaning jobs into a quick and easy process.

Call us now! 020 3475 5414
End of Tenancy Cleaning Prices
Studio Flat

£106

£94
Studio Flat+Carpet Cleaning

£144

£129
One Bedroom Flat

£148

£133
One Bedroom Flat + Carpet Cleaning

£165

£149
Two Bedroom Flat

£171

£154
Two Bedroom Flat + Carpet Cleaning

£210

£189
Three Bedroom Flat

£197

£177
Three Bedroom Flat + Carpet Cleaning

£254

£228
Four Bedroom Flat

£219

£197
Four Bedroom Flat + Carpet Cleaning

£297

£267
Our end of tenancy cleaning service in W8 Kensington is one of our highly sought offers and it is often booked by landlords who want to prepare their property for the next tenants. Of course, it can also be used by regular consumers who want to deep clean their future home. Meaningless why you
need end of tenancy cleaning, you should count on us when it comes to this job.
I really hate how you have to pour all that time and effort into end of tenancy cleaning and I'm glad that I didn't have to do it because of you, guys. Thank you so much for your assistance! I will definitely recommend you!
Through the years we've provided post-tenancy cleaning to hundreds of clients in Kensington and we have the necessary experience and skills to successfully meet your requirements.
Thanks to our flexible approach, we are able to easily meet the needs of the pickiest customer. We will first talk to you or your landlord in order to find out more about his specific cleaning requirements. Based on this information, our cleaning operatives will prepare a detailed
checklist for your property.
More areas in West London we service
End of Tenancy Cleaning W1, Marylebone
End of Tenancy Cleaning W1, Mayfair
End of Tenancy Cleaning W2, Bayswater
End of Tenancy Cleaning W2, Paddington
End of Tenancy Cleaning W3, Acton
End of Tenancy Cleaning W4, Chiswick
End of Tenancy Cleaning W5, Ealing
End of Tenancy Cleaning W6, Hammersmith
End of Tenancy Cleaning W7, Hanwell
End of Tenancy Cleaning W8, Kensington
End of Tenancy Cleaning W9, Maida Vale
End of Tenancy Cleaning W11, Notting Hill
End of Tenancy Cleaning W12, Shepherds Bush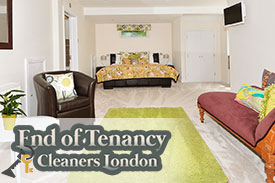 One of the greatest things about our end of tenancy cleaning service is the quick turnaround time. While other agencies will keep you waiting for several days, we can send our workers to clean your property in just a day. Thanks to the rich experience and training of our cleaning technicians, we can complete any post-tenancy cleaning job in just a few hours, but still achieve results that fully meet your and your landlord's requirements.
And if by any chance your landlord isn't satisfied with the results, we'll re-clean the place free of charge.