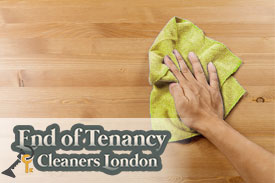 Our agency is an experienced provider of end of tenancy cleaning services in Hammersmith, London. Changing homes is a process that requires many arrangements. Many people think that all they need to do is pack their possessions and move to their new place. However, there are many other things you should take care of. One of those things is post-tenancy (end of tenancy) cleaning in Hammersmith, London.
This is a job that requires a lot of effort and time, so it is not a good idea to try to do it on your own. Instead, you can contact us and take advantage of our professional end of tenancy cleaning service. We guarantee that you won't be disappointed with the quality, price and reliability of our service.

Call us now! 020 3475 5414
End of Tenancy Cleaning Prices
Studio Flat

£106

£94
Studio Flat+Carpet Cleaning

£144

£129
One Bedroom Flat

£148

£133
One Bedroom Flat + Carpet Cleaning

£165

£149
Two Bedroom Flat

£171

£154
Two Bedroom Flat + Carpet Cleaning

£210

£189
Three Bedroom Flat

£197

£177
Three Bedroom Flat + Carpet Cleaning

£254

£228
Four Bedroom Flat

£219

£197
Four Bedroom Flat + Carpet Cleaning

£297

£267
End of tenancy cleaning covers all areas of your home and over a hundred cleaning jobs. Of course, you may want just certain areas cleaned, so we give you the opportunity to tailor the service according to your expectations. You can easily include or exclude certain cleaning jobs by contacting our support staff.
I know that end of tenancy cleaning is not cheap. But better pay someone what will get the job done is what I always say. Thank you all for doing this by the way. Be sure that I will recommend you to anyone I know.
They will instantly apply the necessary changes to your home's checklist and our workers will know what to do when they come. Thanks to the checklist, our workers can cover all necessary cleaning jobs and track their progress, so they won't miss a single spot.
More areas in West London we service
End of Tenancy Cleaning W1, Marylebone
End of Tenancy Cleaning W1, Mayfair
End of Tenancy Cleaning W2, Bayswater
End of Tenancy Cleaning W2, Paddington
End of Tenancy Cleaning W3, Acton
End of Tenancy Cleaning W4, Chiswick
End of Tenancy Cleaning W5, Ealing
End of Tenancy Cleaning W6, Hammersmith
End of Tenancy Cleaning W7, Hanwell
End of Tenancy Cleaning W8, Kensington
End of Tenancy Cleaning W9, Maida Vale
End of Tenancy Cleaning W11, Notting Hill
End of Tenancy Cleaning W12, Shepherds Bush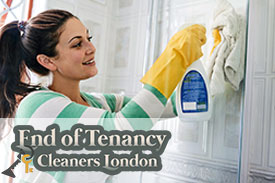 If you book our services in Hammersmith, your home will be cleaned by trained professionals who have years of experience behind their backs. Each one of our employees uses modern cleaning methods to achieve the results you require. We supply them with professional cleaning products and equipment in order to enhance the results they achieve.
About Hammersmith
Hammersmith is an area in West London under the administration of London Borough of Hammersmith and Fulham. it is situated five miles west of Charing Cross on the north bank of the River Thames. here you may find many construction and industrial buildings. Hammersmith is a famous core of activity, with several local feeder roads and a bridge over the Thames.