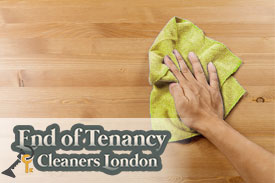 Our end of tenancy services in Vauxhall, London can save you lots of time because they are going to be performed by professional cleaners who have been trained by us and have proven their dedication. The cleaning service we are going to offer you is really high quality and you can be sure that we will give our best in order to complete the task in the fastest and at the same time most affordable way plus our service is pretty detailed.
We offer post-tenancy and pre-tenancy cleaning and we guarantee you that we will carry it out within a couple of hours thanks to our professional team in SW8 Vauxhall.

Call us now! 020 3475 5414
End of Tenancy Cleaning Prices
Studio Flat

£106

£94
Studio Flat+Carpet Cleaning

£144

£129
One Bedroom Flat

£148

£133
One Bedroom Flat + Carpet Cleaning

£165

£149
Two Bedroom Flat

£171

£154
Two Bedroom Flat + Carpet Cleaning

£210

£189
Three Bedroom Flat

£197

£177
Three Bedroom Flat + Carpet Cleaning

£254

£228
Four Bedroom Flat

£219

£197
Four Bedroom Flat + Carpet Cleaning

£297

£267
All of our employees have been specialized in deep cleaning service so this is enough to be sure that every inch of your place will be completely cleaned to perfection and not a single spot will be missed. All of the needed tools and equipment will be provided by us and we will not make you pay for any of it.
Just hired those guys yesterday. I must admit, they did some fine job cleaning my apartment, although I think they were almost too professional for what I was looking for. Because of this, I made sure to give each and every cleaner a nice juicy tip. Keeping them motivated and ready for work.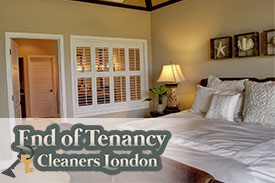 As a whole it is important to know that we take pride at what we do and we want to show this to you. We also offer 48-hours guarantee so if you spot any problem within this period of time you need to know that you can simply call us and book our services. All of our cleaners have been specially trained and will perform numerous operations in order to make your house perfectly cleaned. Below you will find a list of some of our services;
mopping hardwood floors
cleaning inside and outside of windows
furniture dusting
de-greasing and cleaning the oven
cleaning cupboards, wardrobes and cabinets
cleaning cupboards and all of the other household appliances
This just a small list of what we have to offer and this is why if you are interested in our services it would be really great if you manage to call us and book our end of tenancy. One thing is sure – you will be served by the best in this business and you will have the chance to use our services every time you need. Just call us.