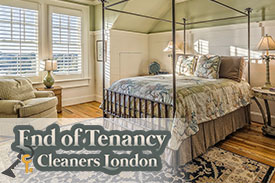 Our experienced end of tenancy cleaners in Earlsfield, SW17 London can perform top to bottom cleaning of your home. Whether you were a tenant of a small apartment or a full-fledged villa, end of tenancy cleaning seems equally difficult in either case. Tenants are busy during the last few days before end of tenancy. The concerns before leaving tenancy are both mental and physical.
While mental concerns have to be dealt by tenants, we can assure to provide some respite from physical business by undertaking the responsibility of cleaning. We do complete cleaning in Earlsfield with satisfactory standards within a period of 72 hours from the time of reception of request.

Call us now! 020 3475 5414
End of Tenancy Cleaning Prices
Studio Flat

£106

£94
Studio Flat+Carpet Cleaning

£144

£129
One Bedroom Flat

£148

£133
One Bedroom Flat + Carpet Cleaning

£165

£149
Two Bedroom Flat

£171

£154
Two Bedroom Flat + Carpet Cleaning

£210

£189
Three Bedroom Flat

£197

£177
Three Bedroom Flat + Carpet Cleaning

£254

£228
Four Bedroom Flat

£219

£197
Four Bedroom Flat + Carpet Cleaning

£297

£267
There are advantages that you would get from us, which are not provided by many. First of all, we acknowledge that kitchen and bathroom required thorough cleaning, unlike most other rooms. This is why we have included deep cleaning for bathroom and kitchen in our end of tenancy cleaning package. You can contact us even if simple dusting or vacuum cleaning of the tenancy is required.
I wouldn't be able to do it without you, people! Thanks for the fantastic end of tenancy cleaning service you have provided me with! I recommended you to all my friends who live in a rented house or apartment. Take care!
People of Earlsfield SW18 can hire us for both light and deep cleaning. In addition to that, we also provide peripheral cleaning services. Therefore, our professionals are available for window cleaning, carpet cleaning and litter disposal too. Now, you do not have to worry about the ingredients that clean your walls and floors without damaging them. We offer degreasing services for tiled walls and floors so they always remain gleaming like new.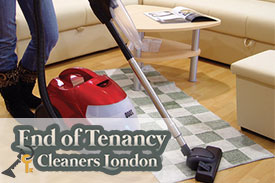 There is no doubt about the fact that cleaning one's own place is a very good habit and should be practiced. However, circumstances play a major role in the decision that people make. Today, end of tenancy cleaning is a full grown industry, which is an indication that people do require this service.
Tenancy Cleaning Solutions Earlsfield
Apart from saving time and energy for other important work, people get high standard cleaning that is not possible otherwise.
We carry out extensive examination of the substances and equipment that we use in SW18 Earlsfield so that our customers are safe from health hazards.
You would realise the professionalism of our cleaners when they start cleaning at your tenancy. They are thoroughly trained and certified for the job. Besides, we carry complete insurance coverage for all our services.
As a result, effective cleaning is provided without any risk. If you are dissatisfied with our end of tenancy cleaning, feel free to inform us. Our professionals shall redo the job up to your satisfaction standards.