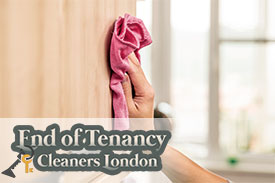 We are the best solution of your end of tenancy cleaning issues in Battersea, SW11 London. Changing homes is an unpleasant process which can take a lot of time and leave you completely exhausted. The process is even longer if you are living in a rented property, in Battersea, London because you'll have to make many additional arrangements and take care for other things as well.
One of the most difficult tasks tenants face is preparing their ex-home for the inspection of the landlord. We advise you to leave this job to professionally-trained cleaners, who will do it quickly and professionally.

Call us now! 020 3475 5414
End of Tenancy Cleaning Prices
Studio Flat

£106

£94
Studio Flat+Carpet Cleaning

£144

£129
One Bedroom Flat

£148

£133
One Bedroom Flat + Carpet Cleaning

£165

£149
Two Bedroom Flat

£171

£154
Two Bedroom Flat + Carpet Cleaning

£210

£189
Three Bedroom Flat

£197

£177
Three Bedroom Flat + Carpet Cleaning

£254

£228
Four Bedroom Flat

£219

£197
Four Bedroom Flat + Carpet Cleaning

£297

£267
If you are near the end of the tenancy period, then you might be interested in our professional end of tenancy cleaning service.
I always associate end of tenancy cleaning chores with hard work for nothing. Thanks God, there are some professional cleaning companies such as yours that help people like, who don't want to spend their time cleaning the entire place.
This service has been around for many years and our workers have satisfied the cleaning needs of hundreds of landlords. We've worked with many different customers in Battersea and so far we have never received negative feedback.
Other areas in London that we also service
SW12 Balham
SW13 Barnes
SE1 Southwark, Bermondsey
SW14 Mortlake
NW2 Cricklewood
Our qualitative service and affordable prices have helped us become one of the most popular names in the London cleaning industry and we are glad to see that our clients appreciate our efforts. We are constantly looking for new ways to improve the efficiency and price of our end of tenancy cleaning service.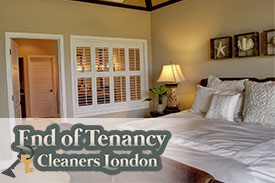 The service is carried out by a team of trained and experienced cleaning technicians who can apply different cleaning methods. They are supplied with modern cleaning equipment and top-of-the-shelf cleaning products. Our prices are very affordable and we won't charge you extra for the materials our employees use. Here are some of the things which our end of tenancy cleaning service covers:
Kitchen cleaning in Battersea:
Cleaning the inside and out of cabinets and cupboards
Wiping surfaces
Cleaning windows on the inside
Clean appliances on the inside and out
Bathroom cleaning Battersea:
Cleaning the floor
Cleaning mirrors and sanitary wear
Wiping counters and boards
Living room, dining room, and bedroom cleaning Battersea:
Vacuuming/mopping floor
Removing litter and cobwebs
Dusting surfaces
Cleaning mirrors and wall hangings
Cleaning wardrobes, cabinets on the inside and out
Do not hesitate to contact our customer support team in order to receive more information about our end of tenancy cleaning services in Battersea, London.