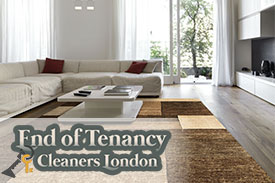 Living as a tenant in South East London is not that good as it might seem. Apart from paying your bills and rent, and doing all this regularly, sooner or later you will have to leave the place and eventually clean it in order to get your deposit back.
As you know this type of cleaning is known as end of tenancy cleaning. In order to do this the right way you will have to deep clean the entire property and you will have to know that if you lack the skills or time you might encounter serious problems and even lose your money. If you don't want to risk it and be completely sure that you will get your deposit back then you will have to do the right thing in this situation – call us.

Call us now! 020 3475 5414
End of Tenancy Cleaning Prices
Studio Flat

£106

£94
Studio Flat+Carpet Cleaning

£144

£129
One Bedroom Flat

£148

£133
One Bedroom Flat + Carpet Cleaning

£165

£149
Two Bedroom Flat

£171

£154
Two Bedroom Flat + Carpet Cleaning

£210

£189
Three Bedroom Flat

£197

£177
Three Bedroom Flat + Carpet Cleaning

£254

£228
Four Bedroom Flat

£219

£197
Four Bedroom Flat + Carpet Cleaning

£297

£267
We have been practicing our skills in the area of end of tenancy for a couple of years and to tell you the truth we have been extremely successful. Probably the reason for this hides in the fact that we have gathered a special team of workers who have always been giving their best.
Not many people know that there are actually some very decent and hard working end of tenancy cleaning people out there. So I make sure to tell everybody just how good you guys really are! And for those of you who don't believe me, I can say only that you are missing on perhaps the best end of tenancy cleaning of your life. Try it, you wont regret it!
We take pride at our work and this is why we will come at your place and clean every single detail to perfection. Our special schedule will help you realize that we are definitely professionals and because of this reason we have lots of clients. When we start working, we always begin with the bathroom because it is the dirtiest place in every home.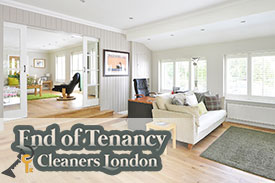 After treating everything with our special detergents, which are completely environmentally friendly and child safe, we will go for the kitchen. The procedure there is similar only this time we will wash the household appliances and everything we can find.
Of course we will not miss the bedroom and the interior in general. One thing is sure – your landlord will be pretty happy when he sees the place in this condition. He will have no other choice but to give your money back. For further information or any questions feel free to call us – we are open for business.