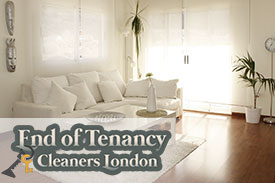 We can offer you affordable and quality end of tenancy cleaning service in Cricklewood, London. It is important for people leaving their rented accommodation in Cricklewood, London to use the help of a professional end tenancy cleaning agency. This is a guaranteed way to receive your initial deposit back. We have been providing our end of tenancy cleaning services in NW2 Cricklewood, London for over a decade.
Your house will be cleaned in the time specified and we are sure that you will be happy with the condition of your property after the service is finished. We have mobile teams in our end of tenancy cleaning services and they serve all the properties that are in need of end of tenancy cleaning in Cricklewood, London. The teams are sent with effective tools and equipment and the chemicals used by them are environmentally friendly.

Call us now! 020 3475 5414
End of Tenancy Cleaning Prices
Studio Flat

£106

£94
Studio Flat+Carpet Cleaning

£144

£129
One Bedroom Flat

£148

£133
One Bedroom Flat + Carpet Cleaning

£165

£149
Two Bedroom Flat

£171

£154
Two Bedroom Flat + Carpet Cleaning

£210

£189
Three Bedroom Flat

£197

£177
Three Bedroom Flat + Carpet Cleaning

£254

£228
Four Bedroom Flat

£219

£197
Four Bedroom Flat + Carpet Cleaning

£297

£267
We understand the importance of professional cleaning and are well aware of the requirements of all clients. We provide guaranteed services and the landlords or estate agencies have always been satisfied with the services that we provide. Our company has prepared a standard check list that is used by most of the letting agents in London and preferred by most of the tenants and landlords. Book our service and you can be rest assured that each and every corner of your house will be washed effectively.
End of tenancy is too much of a complex obligation, especially for someone who have never done it before. That is why I preferred to entrust this job to professionals such as you. Thank you for the great job!
Once we start working for you can remain sure that your property is in the right hands as our service is insured and we will re-do the work if you are not satisfied. Our team will clean every room in your house; you can have a look at the list of work done by our team:
Bathroom Cleaning Tasks
The shower screen will be polished, cleaned and de-scaled
Wall tiles are cleaned, polished, and degreased
The taps, fittings, basin, bath, and shower will be polished, dried, cleaned and de-scaled
The toilet seat will be brushed, de-scaled, and disinfected with the help of proper solutions
The soaps and shampoos will be completely removed from the bathroom
Mirrors will be polished and cleaned
The floor will be polished and washed, if there is a carpet then it will be hovered
Kitchen Cleaning Tasks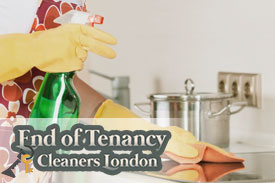 Whole area will be polished and washed
The drawers and cupboards should be cleaned inside out. Old carrier bags and foodstuffs will be removed
The taps and sinks will be cleaned and the lime scale will be removed
The wall tiles will be polished, cleaned and degreased
Oven should be internally cleaned so that all the grease that might have built up is easily removed. If necessary then the external parts will be polished
The extractor will be cleaned and made grime free
The fridge will be cleaned and mildew, food deposits and grime will be removed
The soap drawers, washing machine and rubber will be cleaned inside out
General and bedrooms cleaning tasks
Whole room will be dusted and this includes even the shades, light fittings, switches, curtains, wall pictures, skirting, fire surround, mirror, radiator, etc.
The furniture will be carefully moved and carpet will be vacuumed effectively. Skirtboards behind the furniture will be dusted
Mattresses will be lifted properly and the areas below them will be vacuumed
Cobwebs will be removed
Every area on the floor will be scrubbed and washed
The items having glass on them will be securely cleaned without any breakage
The window sills will be wiped and internal parts of the windows will be cleaned
The doors will be cleaned and even the door windows will be washed properly
Shelves and Drawers will be made dirt free and the telephone directories will be kept

safely.
Other areas in London that we also service
NW1 Somers Town
NW1 Camden Town
NW2 Willesden, Neasden
Do not hesitate to contact our cleaning team for booking arrangements via e-mail and over the phone.