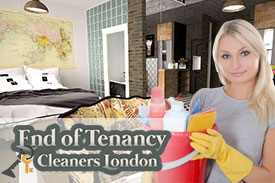 If the time has come and you are about to move out from your rented property in North London, then you need to be sure that you will do anything possible in order to make sure that you will get your deposit money back. You may find our end of tenancy cleaning pretty helpful because we have managed to help so many people out there. Our company performs qualitative and professional cleaning in the area of end of tenancy and we guarantee that we will make your property look as good as if you have just moved in.
We will carry the whole process out in a professional way and you can be sure of this thanks to our special schedule. Basically you can refer deep cleaning as end of tenancy cleaning but with some major additional details. We guarantee you that the property will be in perfect condition when we leave.

Call us now! 020 3475 5414
End of Tenancy Cleaning Prices
Studio Flat

£106

£94
Studio Flat+Carpet Cleaning

£144

£129
One Bedroom Flat

£148

£133
One Bedroom Flat + Carpet Cleaning

£165

£149
Two Bedroom Flat

£171

£154
Two Bedroom Flat + Carpet Cleaning

£210

£189
Three Bedroom Flat

£197

£177
Three Bedroom Flat + Carpet Cleaning

£254

£228
Four Bedroom Flat

£219

£197
Four Bedroom Flat + Carpet Cleaning

£297

£267
One of the main reasons for this is the fact that we will use only the latest equipment in the area of technology, detergents and materials. As we have said above, we take pride at what we do and we completely understand the importance of our job. We will take all of the needed measures in order to make sure that our services are going to be performed in the best way possible. If you want to find some details about our way of work, just read below:
I am not sure if this is going to reach you, but here it goes. Thank you so much for doing my end of tenancy cleaning in such a light-fast speed. Now I no longer worry about finding the time, and the motivation, to do the work myself. Saved my hide, I tell you that much...
Bathroom
de-scale, clean and polish the showers
polish, clean taps
polish and wash the floors
de-scale and clean the toilet and its surroundings
Bedrooms and general cleaning
we will dust any surface in your home without missing a single spot
we will also lift mattresses and clean everything beneath them
wash floors
remove cobwebs
clean outside and inside of storage rooms
clean doors and polish them
Kitchen
clean frizzer/fridge
clean inside and outside of garbage cans
clean dishwasher
degrease and clean extractor
remove lime scale, polish sinks and taps
This is just a small part of all of the services we offer, for additional information you can give us a call.