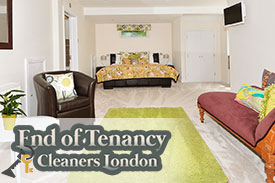 Finding end of tenancy cleaning services in Crouch End is easy – the difficult part is to find a service which is reliable, meets your requirements and won't cost you a small fortune.
We believe that our company offers one of the most reliable and affordable end of tenancy cleaning solutions in the N8 Crouch End area.

Call us now! 020 3475 5414
End of Tenancy Cleaning Prices
Studio Flat

£106

£94
Studio Flat+Carpet Cleaning

£144

£129
One Bedroom Flat

£148

£133
One Bedroom Flat + Carpet Cleaning

£165

£149
Two Bedroom Flat

£171

£154
Two Bedroom Flat + Carpet Cleaning

£210

£189
Three Bedroom Flat

£197

£177
Three Bedroom Flat + Carpet Cleaning

£254

£228
Four Bedroom Flat

£219

£197
Four Bedroom Flat + Carpet Cleaning

£297

£267
The service is carried out by a team of professionally-trained cleaning technicians who have already cleaned hundreds of homes. They work according the highest cleaning standards and can clean the biggest messes. We are confident that a home cleaned by us can pass the inspection of the strictest landlord.
I really needed help with my end of tenancy cleaning, because of my asthma. My landlord didn't care about that, and told me that if I didn't do it, I wasn't getting my deposit back. A friend told me about your company and now I know why she held you in such a high regard.
We've been in the cleaning business in Crouch End for many years and during this time we've never stopped improving the services we offer. Nowadays, we offer some of the most complete cleaning services in London and we believe our end of tenancy cleaning service is the best in London.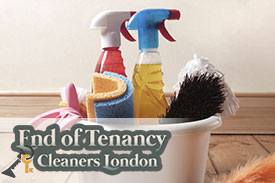 It is carried out swiftly and professionally by some of the most experienced cleaners in London. Each one of our employees has been checked, so you can have peace of mind while our workers are cleaning your place. Keep in mind that our end of tenancy cleaning service can be tailored to meet your budget and requirements.
Other areas in London that we also service
N8 Hornsey
SE10 Greenwich
SE11 Kennington
NW4 Hendon
Our end of tenancy cleaning service covers the following areas:
Kitchen Cleaning:
Clean counters and cupboards
Clean appliances (inside and out)
Mop and vacuum floors
Remove grease
Clean the inside of windows
Clean skirting boards and doors
Bathroom Cleaning in Crouch End
Clean sanitary wear
Clean taps, sinks, bathtubs, showers
Clean windows, doors, mirrors, window frames
Cleaning the Bedrooms/living room:
Clean floors
Clean windows
Clean surfaces and window frames
Clean paintings, mirrors, other wall hangings
Clean furniture and skirting boards
These are just the general things this service covers, so don't hesitate to contact us if you need more detailed information.