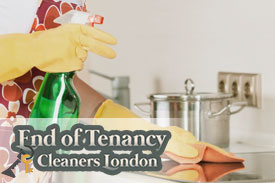 Living in a rented property in Tottenham is preferred by many people, but this type of accommodation has some negative aspects. One of the biggest problems are the strict landlords – you must make sure that their property looks perfect at all times, because they can easily fine you if you don't take good care of their place.
Most landlords will also inspect their home at the end of the tenancy period and if they are not satisfied with the results, they won't return your deposit back. If you want to be sure that your place will pass the inspection of the strictest landlord, then you should book our end of tenancy cleaning service in Tottenham.

Call us now! 020 3475 5414
End of Tenancy Cleaning Prices
Studio Flat

£106

£94
Studio Flat+Carpet Cleaning

£144

£129
One Bedroom Flat

£148

£133
One Bedroom Flat + Carpet Cleaning

£165

£149
Two Bedroom Flat

£171

£154
Two Bedroom Flat + Carpet Cleaning

£210

£189
Three Bedroom Flat

£197

£177
Three Bedroom Flat + Carpet Cleaning

£254

£228
Four Bedroom Flat

£219

£197
Four Bedroom Flat + Carpet Cleaning

£297

£267
Our cleaning agency has been in the cleaning business for many years and our employees have successfully satisfied the cleaning needs of hundreds of people and we are confident that there isn't a cleaning job which we can't handle.
Last time I had to move (I do it a lot because of work) I couldn't get the flat cleaned in time and my landlord threatened that he would return my deposit. I had only a few hours to make it right, so I called you guys to help out. Not only did you manage to clean everything, but you did it so quickly that I had time to spare. Both my landlord and I were very pleased.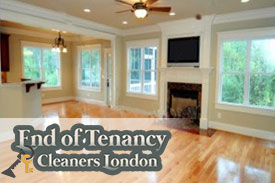 The cleaning technicians we employ are professionally-trained and most of them have been working for our company for some time. They know how to apply the most efficient and quick cleaning techniques and we've instructed them to work according the highest cleaning standards, so we guarantee that your expectations will be met!
Other areas in London that we also service
N20 Whetstone
N21 Winchmore Hill
N7 Holloway
N3 Finchley
We provide our cleaning team with the required equipment and materials, so our clients don't have to provide any cleaning products. We also offer you the opportunity to tailor this service according to your requirements and budget – give us a call and tell us what you want and what you don't want from our end of tenancy cleaning service.
We'll instruct our team to work according to your instructions. The service is quite affordable and we are confident that it can be afforded by tenants with a small budget. Don't hesitate to give us a call if you have any questions about our end of tenancy cleaning service.
We would like to advise you that our cleaning team in Tottenham works all days of the week, including weekends and its up to you to choose the most convenient day.